"Snow Shoe has for many years been a popular summer resort, where mountain air and mountain scenery invite and charm hundreds of visitors yearly."

— John Blair Linn 1883, Secretary of the Commonwealth of Pennsylvania, 1878–1879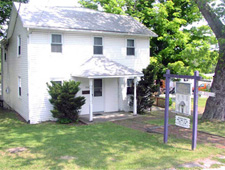 The Lions David House is located in Snow Shoe, Centre County, Pennsylvania, and it houses the Mountaintop Area's only public heritage collection.
Current exhibits span topics from the history of Pennsylvania's industrial development to handwritten family genealogies. The Lions David House boasts an eclectic collection accumulated solely from donations.
Snow Shoe, Centre County, Pennsylvania, is the eastern gateway to the Commonwealth's "Pennsylvania Wilds" Outdoor Tourism Initiative. The area is located in the northwestern mountains of Centre County and boasts many seasonal properties and outdoor recreation opportunities.
Lions David House Operating Hours for 2017 *
Monday, Wednesday & Saturday 1 p.m. to 4 p.m. • April through October
* Off-hour, off-season, and group visits can be arranged anytime by appointment. Call 814-387-4509 for details.
News from the Lions David House Museum
May 2009: The Lions David House launches its formal web presence through a HostGator Technology Grant. Concept design by our first IYI team member Joe Milloch. Thank you!
July 2008: The Lions David House initiates its Internet Youth Initiative (IYI) Program, allowing a local student the opportunity to design and manage the Lions David House Internet Site on a annual basis.
June 2008: Recent additions to the Board of Directors; election of new officers.
2008 Recipient of a Capital Improvement Grant from the Central Pennsylvania Convention and Visitors Bureau
2008 Recipient of Pennsylvania Department of Community and Economic Development Grant for Renovations
The Lions David House is a nonprofit 501(c)3 educational organization partially funded by a trust endowment. To donate to the Museum or its endowment, please contact the Lions David House Trust Inc. by email or mail contributions to: The Lions David House, P.O. Box 66, Snow Shoe, PA 16874.
To donate with a credit/debit card, please use our PayPal link on the Donate! page.
The Mountaintop Area includes Clarence, Gillintown, Moshannon, Pine Glen (now in Burnside Twp), and Snow Shoe Borough and surrounding areas, which were all part of Snow Shoe Township when the township was first established 27 January 1840 from the western portion of Boggs Township, Centre County, Pennsylvania.